River of Life Counseling
---
The River of Life Counseling Ministry is a ministry of The Life Church. We are located in Bloomington, Indiana, USA. River of Life is a Christian prayer and counseling ministry that includes counseling, teaching, and training. It is our belief that healing does not happen by making a broken thing good enough to work. The healing comes as we are delivered from the power of the broken thing so it can no longer rule us. Many Christians are trying to walk in the light (Ephesians 5:8-10), but sometimes they do not produce the fruit of that light. As they strive for perfection, they become frustrated trying to become the person they think they should be. Our pasts are full of "things" that are sometimes very deep. They prevent us from coming into the fullness that God has for us.
The Purpose of Christian Counseling
The purpose of Christian Counseling is to remove the "obstacle" to our continued growth and liberty in Christ. The "obstacle" is usually related to choices made in our past that violated God's principles. Similarly, some people continue to struggle with sinful behavior even after a genuine conversion experience. Why? Again, an unhealed area of our hearts. When Jesus brings healing to that area, the "obstacle" to complete deliverance is removed and the individual is set free
Why do I need counseling?
Why does a born again Christian need counseling? Because sometimes we can't get to the healer by ourselves. He is always available, but there is some type of hindrance. The Bible tells a story of a man that was sick of palsy (Mark 2:3-5) that was brought to Jesus being carried by FOUR people. He couldn't get there on his own, but when he got to Jesus, he was healed. Such is the same for Christian counseling - it is someone that can help us go to Jesus for the healing we need. Only He has the power to transform a life and change a heart. A Christian Counselor, therefore is a vessel God uses to help us get to Him
Our counseling ministry follows the principles of Elijah House, Inc. It is a non-denominational Christian counseling and teaching ministry. John and Paul Sandford founded this ministry in 1974 for the work of restoration and reconciliation. Their goal is to restore Christian families and relationships. Our ministry believes, as they do, that all inner healing is based on a clear understanding of the operation of God's absolute and eternal spiritual laws. You can visit the Elijah House web site for more information on their ministry
This ministry evangilizes the heart by communicating and ministering to the soul of the wounded one. This in turn, leads them back to the place where they can grow and once again have relationship and communion with God through God's spirit
---
Our Staff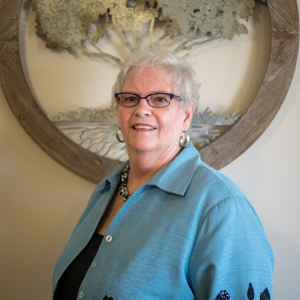 Jody Cox, RN, BSN, BCPC
Jody is the director of the River of Life Counseling Ministry. She is credentialed as a Pastoral Counselor by AACC (American Association of Christian Counselors) and has successfully completed both the basic and advanced courses at Elijah House, Inc. To contact Jody you can use the form, send her an email: djc@mychurchlife.org, or contact the church office at (812) 339-LIFE (5433) extension: 2